~Virginia Putnam~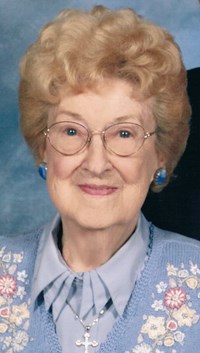 YOAKUM: Virginia Putnam passed away peacfully at home, on November 1, 2017, at the age of 101.
She was born, Virginia Marie Ringens, March 19, 1916 in Peoria, IL to Henry & Augusta Ringens.
Virginia (Gin) married Robert (Bob) Putnam, August 3rd, 1940 in Peoria, IL. Their mutual love of music & dance was a common thread thru out their lives. They were life dance partners for 77 years.
They met in 1936 at an evening dance of Big Band music in Peoria, IL. after 8 years of marriage, & the birth of their son, Mark, they left Peoria & moved to McAllen, TX, where their daughter Kay, joined the family. While living in McAllen they took up square dancing.
In the mid 1950's they waltzed their way to Corpus Christi, TX where daughters Jean & Nancy were born. In Corpus Bob & Gin joined the Petroleum Club, where they took ball room dancing lessons hoping to learn a few new moves. Although they practiced at home, they soon decided their own verison was much more fun.
After being a homemaker & mother for 15 years, Gin returned to the workforce as a secretary to the Corpus Christi city attorney, where she worked for 19 years.
After Gin retired, they moved to Yoakum, where they have resided since 1981. They continued to enjoy dancing and at one time were members of 3 different Yoakum dance clubs, but Big Band was always their favoriate.
Gin was a member of Holy Cross Lutheran Church. She was a longtime member of the Yoakum Garden Club & Literary Clubs. She read music & often played the piano at various community  programs, such as Rotary and Golden Nuggets.
Survivored by: husband, Robert (Bob) Putnam; 4 children, Mark Putnam, Kay Feeman, Jean Chancy (Mike) and Nancy Putnam; 7 grandchildren, Vicky Martin, John Feeman, Kyla Hargis, Dawn Kirkland, Mark Putnam Jr, Matthew Chancy and Lauren Chancy; 14 great-grandchildren; nieces and nephews.
Services will be held at 11:00 a.m. at Holy Cross Lutheran Church on Saturday, November 4th, 2017 with Rev. Alsen Wenzel officiating. Entombment at Yoakum Restland Cemetery mausoleum.
Pallbearers: Mike Chancy, Lauren Chancy, Wess Kirkland, Garret Kirkland, Mark Putnam Jr, Miguel Garcia, Cameron Stanley and Robert Stutzman. Honorary pallbearers: Mark Putnam, Bobby Putnam, Russ McGilvary and Matthew Chancy.
Memorial contributions may be given to Holy Cross Lutheran Church.