~Monica Renken~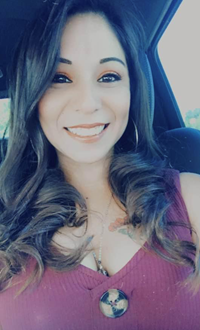 HALLETTSVILLE: Monica Lee Renken, 38, passed away Friday, February 12, 2021. She was born April 19, 1982 in Denver, Colorado to Frank and Rosa (Granillo) Gonzales.
Monica worked as a receptionist at Eddy Packing. She was a strong person and was always willing to help others in need. She loved to travel, going to the Renaissance Festival and spending time with her family. She was a member of Faith Family Church and was a Sunday school teacher.
Survivors are her parents, Frank and Rosa Gonzales of Hallettsville; husband, Ryan L. Renken of Hallettsville; daughter, Star Davis of Victoria; sons, Jaden Gonzales  and Michael Silgero , both of Hallettsville; sisters, Cindy Bolkan of Oregon and Wendy Tristan of Richmond; brothers, Jose Gonzales of Fort Worth and Frank Gonzales of LaGrange; numerous extended family.
Mask and social distancing are required at all times.
Visitation 10 a.m. to 2 p.m. Sunday, February 21, 2021at Thiele Cooper Funeral Home. 
Funeral Service 1 p.m., Monday, February 22, 2021 at Faith Family Church in Hallettsville with Rev. Emilio Laredo officiating. Burial to follow at Hallettsville City Cemetery.
Arrangements by Thiele Cooper Funeral Home, 361-293-5656.