~Shirley Reynolds~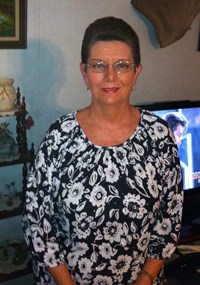 YOAKUM: Shirley Reynolds, 68, answered God's call and softly passed away, Thursday, September 9, 2021 with her family at her side. She was born August 10, 1953 to John and Onie (Hart) Smith.
Shirley graduated from Yoakum High School and attended Baldwin Business College. She became an insurance billing clerk and worked at Trott Clinic for 21 years, retiring after a brain tumor. She was fierce fighter of her cancer for the next 7 years, with her beloved Raymond helping her every step of the way.
Survivors are her husband of 48 years, Raymond Reynolds; daughter, Alicia Reynolds; son Lee Reynolds and wife Karrie; four grandchildren, Ethan Robertson, Aleah Terry, Lane Terry and Axton Reynolds; brother, George Smith (Jo Lois); sister-in-law, Ruth Nusbaum (Al) and brother-in-law, Jimmy Reynolds.
Preceded in death by her parents.
Visitation 5 to 7 p.m., Saturday, September 11, 2021 at Thiele Cooper Funeral Home.
Funeral service 2 p.m., Sunday, September 12, 2021 at Thiele Cooper Funeral Home with Pastor Elvis Johnson officiating. Burial to follow at Hebron Cemetery.
Pallbearers are Terry Frank, Justin Kinnison, Joel Smith, Hunter Smith, Jamie Reynolds, Brian Reynolds, Cliff DuBose and David Beckham.
Honorary Pallbearers are Dr. C.E.  Ciborowski, George Smith, Ronnie Kostelnik, Donald Green, James Findeisen, Eddy Varela, Johnnie Willis, Jimmy Reynolds, Ronnie Arlitt, Everett Marshall and Steve Odstrcil.
Memorials may be given to St. Jude Children Hospital.
Arrangements by Thiele Cooper Funeral Home, 361-293-5656.