~Janie Sandelovic~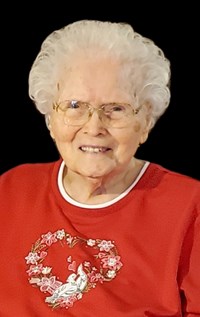 YOAKUM: Janie E. Sandelovic, 93, passed away Monday, March 13, 2023. She was born October 27, 1929 in Yoakum to William and Amanda (Mott) Springfield.
She graduated from Yoakum High School in 1947 and went to work as a telephone operator at Southwestern Bell . She married Felix Sandelovic on November 11, 1952 and they enjoyed the next 59 years together until Felix's passing in 2012.  Janie served God by serving others, especially when their oldest child, James was born with special needs and Janie became a devoted mother.  Her faith carried her through the difficult times in life.
Survivors are her daughters, Linda Sandelovic of Victoria, Elizabeth Lemke (Dayle) of Victoria and sons, William "Bill" Sandelovic of Shiner and Michael Sandelovic (Deanna) of Hallettsville; five grandchildren, Joshua Brown, Clayton Brown (Brooke), Ky Sandelovic, Nathan Sandelovic, and Natalie Sandelovic; one great-grandchild, Aiden Brown.
She is preceded in death by her parents; husband Felix M. Sandelovic; son, James Sandelovic; daughter, Cathy Brown; sisters, Hazel Johnson, Bertie Cook, Billie Foy and Florence Green; brothers, Cecil Springfield and Ervin "Moody" Springfield.
Visitation 9:30 a.m., with Rosary recited at 10:30 a.m. and Funeral Service at 11 a.m., Friday, March 17, 2023 at Thiele Cooper Funeral Home. Burial to follow at St. Joseph Catholic Cemetery.
Memorials may be given to St. Joseph Catholic Church or Hospice of South Texas or Donor's Choice.
Arrangements by Thiele Cooper Funeral Home, 361-293-5656.