~Lorea Schaffner~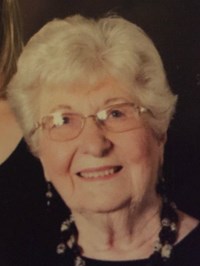 YOAKUM: Lorea Schaffner, 93, passed away on Saturday, February 10, 2018.
She was born  in Stratton, Texas to Jim and Ann Adams Smith on October 14, 1924.
She married Pete Schaffner on September 13, 1950 at Westoff Lutheran Church.
Lorea graduated from Yoakum High School in 1942 and attended Baldwins Business College.  After graduating, she moved to Cuero and worked as a bookkeeper.  There she met her future husband while playing on the "Blue Jeans" softball team.  After marrying Pete, she created a loving home for her family.  She returned to the workforce years later as a paraprofessional in Yoakum ISD and then finished her career at the Texas Department of Transportation where she retired.  Lorea and Pete partnered with Shirley and Glen Blundell and opened "The Guest House" Bed and Breakfast where they enjoyed meeting and serving many people. 
She was a member of Stratton Primitive Baptist Church, the Pilot Club, and served as a volunteer to Accolade Hospice and the Yoakum Historical Museum.  Lorea and Pete loved to play dominos and were a part of several domino clubs.  Lorea enjoyed baking, gardening, and participating in her grandchildren and great-grandchildren's activities. 
She is survived by her children: Carol McLarry and husband David, Elaine Rice and husband Mike, Kenneth Schaffner and wife Danette, and Linda Rose.
Grandchildren: Allison Strauss, Rachel Allen, Julie McLarry-Homfeld, Matthew Rice, Lauren Ivy, Natalie Saville, Jana Dean, Jaclyn Haley, Andrew Schaffner, and 15 great-grandchildren. 
She was preceded in death by her husband, parents, and step-father, Will Gray. 
Visitation will be held at Thiele-Cooper Funeral Home on Monday, February 12, 2018 from 5:00-7:00 p.m.   The funeral service will be held at Thiele-Cooper Funeral Home on Tuesday, February 13, 2018 at 2:00 p.m. with Elder Jeb Owen officiating.  Burial will follow at Alexander Cemetery.
Pallbearers will be Matthew Rice, Andrew Schaffner, Matthew Strauss, Sean Allen, Justin Homfeld, Clint Ivy, JB Saville, Jeff Haley and Adam Dean. 
Memorials may be given to Stratton Primitive Baptist Church, Accolade Hospice or donor's choice.