~Clarence Schriefer~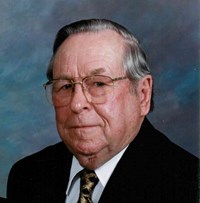 YOAKUM: Clarence Walter Schriefer, 92, passed away Sunday, July 19, 2020. He was born February 11, 1928 in Weimar to the late Hugo and Erna (Rathke) Schriefer.
He was a veteran having served in the U.S. Navy. He was retired from Southwestern Bell Telephone Co. after 38 years as an installer-repair tech.
Survivors are his wife of 66 years, MaryLee (Heinsohn) Schriefer of Yoakum; daughter, Sandra McCord and husband Bobby of Yoakum; son, Gary Schriefer of Woodsboro; grandson, Lance McCord and wife Jasmine of Sweet Home and two great-grandchildren, Payten and Preslee McCord; sister, Viola Manning of Longview.
Preceded in death by parents; sisters, Ruby Mozingo and Eunice Lasyone; brothers, Lawrence Schriefer and Wilbert Schriefer.
Private Funeral Service was held.
Memorials may be given to Hospice of South Texas, 605 E. Locust, Victoria, Tx 77901 or St. Joseph Catholic Church, P.O. Box 734, Yoakum, Tx 77995.
Special thanks to Kathy Gomez for her many years of loving care for Clarence and thanks to Maggie Barrera and Hospice of South Texas for their help these last couple of months.
Arrangements by Thiele Cooper Funeral Home, 361-293-5656.