~Ray Seale~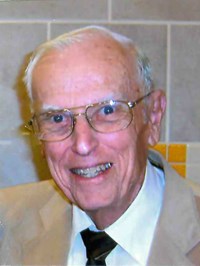 SHINER: Ray Seale, moved into his heavenly home on March 4, 2019 at the age of 97. Ray was born October 30, 1921 in Giddings, Tx. to Charles Edgar Seale and Ruby (Longley) Seale, the youngest of their five sons.
His college education was interrupted in 1943 when he enlisted in the Army, serving in the Infantry until May 1944, when he was wounded in Italy and received the Purple Heart. Returning to Texas A&M, he completed his degree in Agricultural Education. He rode the "Dinky" to Shiner in 1946 to apply for a teaching position; was hired by Shiner ISD and taught for 34 years, to retire in 1980.
Ray married Dorothy Sembera in 1947 and they had one son and one daughter. Ray was a Sunday School teacher and a Deacon at Shiner Baptist Church.
He is survived by his wife of 71 years, Dorothy Seale; five grandchildren, Shea Seale Jones and husband Tommy, Matthew Seale and wife Gabby, Rachel Jordan and husband Rick, Kristian Seiler, Rebecca Kelly and fiance' Angel Velez, four great-grandchildren, Drake and Kyllian Seiler, Samantha and Alexandra Jones; son-in-law Tom Kelly; former daughter-in-law Jo Ann Welch.
Preceded in death by his parents; daughter Leah Kelly and son Wayne Seale.
Visitation 5 to 7 p.m., Wednesday, March 6, 2019 at Thiele Cooper Funeral Home.
Funeral Service 2 p.m., Thursday, March 7, 2019 at Thiele Cooper Funeral Home with Pastor Gary Rodgers officiating. Burial to follow at Shiner Cemetery.
Pallbearers are Gus Jaehne, Brian Timmons, Trey Presley, Bill Koenning, Larry Gerum and Scott Baer.
Honorary Pallbearers are Bill Bradfield and Marvin Kocian.
Memorials may be given to Shiner Baptist Church.