~Johnny Seidenberger~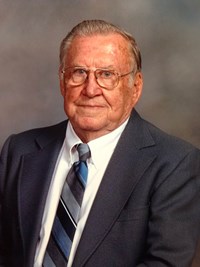 SHINER: Johnny Seidenberger, 92, passed away Saturday, August 5, 2017. He was born December 12, 1924 in Shiner to the late John and Helen (Behlen) Seidenberger.
He graduated from St. Ludmila Academy, joined the U.S. Army. and served in World War II. He returned and graduated from business school at Blinn. He married his love, Evelyn Wendel Seidenberger in November 1946 until her death in 2002.
He worked for Raymond's Auto Supply until his retirement. Until he was 91 years old, he volunteered at Shiner Nursing Home to set up for mass every Monday morning and on Fridays, he would play polka tapes for the residents.
Survivors are his daughters, Alice Kohutek (Glenn) of Victoria and Janice Harty (Dwayne) of Austin; son, Dennis Seidenberger (Karen) of Manchaca; grandchildren, Melissa Walters (Norm), Kim Carville (Willi), Jennifer Estes and Jeremy Seidenberger (Carol); 10 great-grandchildren; special friend, Dorothy Boehm of Shiner; her daughters, Jane Becker (Norbert) of Victoria and Laurie Carter (Craig) of Yoakum; 3 grandchildren; sister, Gladys Chumchal (Edwin) of Shiner.
Preceded in death by his parents; wife, Evelyn Wendel Seidenberger; sisters, Veronia Wehl, Esther Raindl and Edith Harbers; brother, Kermit Seidenberger.
Rosary 6:30 p.m., Monday, August 7, 2017 at Thiele Cooper Funeral Home.
Funeral Mass 10 a.m., Tuesday, August 8, 2017 at Sts. Cyril & Methodius Catholic Church with Rev. Bryan Heyer officiating. Burial to follow at Shiner Catholic Cemetery.
Pallbearers are Jeremy Seidenberger, Nathan Carville, Nicolas Carville, Tyler Lubbock, William Estes and Pat Kram.
Honorary pallbearers are Melissa and Sarah Walters, Kim, Jenna and Jordan Carville, Jennifer Estes, Shelby Lubbock, Grace and Jacob Seidenberger.
Memorials may be given to Sts. Cyril & Methodius Catholic Church or Hospice of South Texas.