~Jeremy Shows~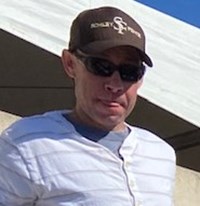 YOAKUM: Jeremy Frank Shows, age 42, passed away Friday, October 8, 2021. He was born August 15, 1979 in Yoakum to Gary and Kathy (Okruhlik) Shows.
He loved his nephews and was a Bulldog fan. He enjoyed watching Texas A & M football games, collecting Marvin the Martian and John Wayne collectables and his favorite movie was Christmas Story. 
Survivors: parents, Gary and Kathy Shows; brother, Jason Shows (Kendra); nephews, Cody, Cash, Cale, Blake and Ty.
Celebration of his Life to be held at 2 p.m., Saturday, October 16, 2021 at Sweet Home Community Hall with Pastor Robert Ramirez officiating.
Memorials may be given to Yoakum Volunteer Fire Dept.
Arrangements by Thiele-Cooper Funeral Home 361-293-5656.