~Russell Sillavan~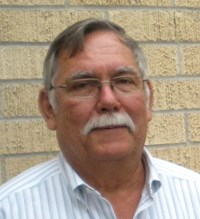 VICTORIA:  Russell Paine Sillavan, 77, passed away Monday, September 6, 2021. He was born December 27, 1943, in Houston to Hollis and Sadie (Paine) Sillavan.
Early in his career he was a police officer for the City of Houston and City of Eagle Lake, as well as, serving as the Chief of Police for the City of Brookshire.  Later in his career,  he worked in the offshore oil industry providing technical and engineering support to offshore drilling teams worldwide. 
 Survivors are his wife of 58 years, Diane (Phillips) Sillavan of Victoria; daughter, Rebecca Edwards and husband Mark of Victoria; son, Russell Paine Sillavan Jr. and wife Lisa of Dime Box, five grandchildren: Jennifer Riley and husband Lance, Joshua Hartwick, Travis Edwards and wife Sheena, Jenna Edwards and Landon Edwards; sister, Linda Lipperdt; sisters-in-law, Allyne Sillavan and Marji Sillavan.
Preceded in death by his parents; brothers, Royce and Robert Sillavan.
Visitation at 1 p.m. following with Funeral Service at 2 p.m., Thursday, September 16, 2021, at Hebron Baptist Church with Pastor Kenneth Parker officiating. Burial to follow at Hebron Cemetery.
Memorials may be made to Hebron Cemetery Association or Hebron Baptist Church.
Arrangements by Thiele Cooper Funeral Home, 361-293-5656.