~Christie Sofka~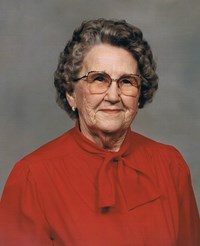 SHINER: Christie Sofka, 98, passed away Wednesday, October 4, 2017. She was born December 13, 1918 into a family of 9 children born to Paul and Mary Meyer Stock.
She married Clement (Sopie) Sofka and they had 7 children. She was a strong woman of great faith. She loved quilting, sewing, crocheting, cooking, baking and most of all, family gatherings with her beloved family, especially the younger great-grandchildren. She dearly loved the little children. She lost her twin brother Steve Stock in WW II, went on to become a charter member of Shiner VFW Auxiliary and served as the first President of the post.
Survivors are her daughters, Joyce Johnson (Troy) of Weimar, Margie Sembera of Shiner, Cathy Boedeker (Marvin) of Shiner, Donna Morgan (Mark) of Michigan and Dianne Cameron (Pat) of Pearland; son, James Sofka (Dorothy) of Shiner; 25 grandchildren, 45 great-grandchildren and 4 great-great-grandchildren; brother, Thomas Stock (Helen) of New Braunfels.
Preceded in death by her parents; husband in 1972; daughter, Paula Sofka Turner; son-in-law, Carroll Sembera; grandson, William Patrick Johnson; 4 sisters, Angeline Sedlmeyer, Marie Trichel, Joyce Beal and Pauline Beal; 3 brothers, Daniel Stock, Paul Stock Jr. and twin brother, Steve Stock.
Rosary 6 p.m., Sunday, October 8, 2017 at Thiele Cooper Funeral Home. Rosary to be led by grandson, Ryan Boedeker.
Funeral Mass 10 a.m., Monday, October 9, 2017 at Sts. Cyril & Methodius Catholic Church with Rev. Bryan Heyer officiating. Burial to follow at Shiner Catholic Cemetery.
Pallbearers are her grandsons.
Honorary pallbearers are her granddaughters and great-grandchildren.
Memorials may be given to Donor's Choice.