~John Taylor~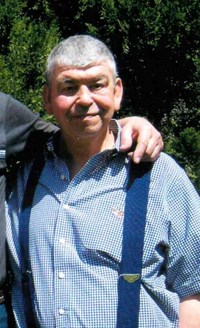 YOAKUM: John Robert Taylor, 64, passed away Sunday, May 14, 2023. He was born September 18, 1958, the first born child of Robert Taylor and Margie (Gibson) Taylor Shindler.
Johnny was born with some medical impairments but proved to be a fighter, out living all medical expectations. He grew to be a fine man, nicknamed "Little Bear". He loved to make "Johnny jokes" just to make his family laugh and resented being bossed by his siblings because "he was the oldest". Johnny's "gift", was being born musically inclined. He learned to play the organ, accordion, harmonica and piano "by ear" and could sing like a bird. He could be seen all over Yoakum riding his 3 wheel bike and talking to everyone. He loved his Lord and was a member of Austin Street Baptist Church. He will be missed by his family and friends.
Survivors are his devoted Mother, Margie Shindler of Yoakum; sister Jane Menke (Alan) of Horseshoe Bay; brothers, James Taylor (Dolores) of Adkins, Jeff Taylor (Brandi) of Yoakum and Jerry Taylor (LeeAnn) of Victoria; numerous nieces and nephews and friends.
Preceded in death by his father, Robert (Bobby) Taylor and niece, Katelyn Taylor.
Visitation 4:30 to 7 p.m., Tuesday, May 16, 2023 at Thiele Cooper Funeral Home.
Funeral Service 2 p.m., Wednesday May 17, 2023 at Austin Street Baptist Church with Rev. Elvis Whaley officiating. Burial to follow at Hermann Sons Cemetery.
Pallbearers will be Johnny's nephews and honorary pallbearers will be his nieces.
Memorials may be given to the Yoakum Food Pantry.
Arrangements by Thiele Cooper Funeral Home, 361-293-5656.