~George Velek~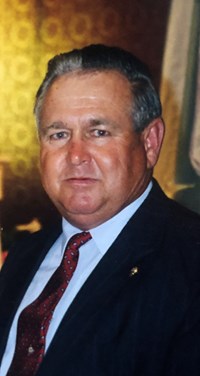 SHINER: George James Velek, age 74 years, 1 month and 2 days entered eternal rest on March 8, 2019.  
George was born on February 6, 1945 along with his twin brother Joseph to Jacob Jr. and Albina (Wentrcek) Velek.  George resided on his family farm in the Boundary Line community and along with helping on the family farm George also attended Shiner ISD where he graduated from in 1963.  Upon graduation he served in the United States Navy for three years during the Vietnam War where he was stationed aboard the "USS Kitty Hawk."  He was a member of American Legion Post No. 201 and a member of Sts. Cyril and Methodius Catholic Church. George worked at Kasper Wire Works for many years and later joined the City of Shiner where he worked until his retirement.  
George married the love of his life Patricia (Pat) Siegel Velek on September 26, 1970 at Sacred Heart Catholic Church in Hallettsville.  George and Patricia were blessed with one daughter, Michelle on December 1, 1980.  
George spent his life always serving others from his family to his friends and he always did this with so much love.  He had an infectious laugh that could bring a smile to everyone's face.  When he was still at home he enjoyed a good breakfast at Werner's which also included laughs with many friends.  After entering Shiner Nursing and Rehab he adjusted to his new routine and found himself a new extended family.  He was crowned the Valentine's King of the nursing home in 2018, a title very fitting.  George suffered from Lupus the past 20 years but he always fought through whatever obstacles the illness put in his path.
 George is survived by his daughter, Michelle and husband Gilbert Price of Shiner; grandson Colton (Amber) Garrett of Corpus Christi; grandaughter Patricia Price of Shiner; 2 great-grandchildren: Elliot and Adelynn; sister and brother-in-law, Estella & Delphin Hundl of Shiner; and brother-in-law and sister-in-law, Julius and Mildred Siegel of Shiner; 3 nieces, 2 nephews, 3 great-nieces and 4 great nephews.
Preceded in death wife, Patricia (Pat) Velek on June 22, 2000; mother Albina (Wentrcek) Velek on December 11, 1995, father Jacob Velek, on October 8 1997; 4 day old Twin brother Joseph Frank Velek, on February 9, 1945; grandparents Frank and Theresa (Mrnustilk)Wentercek and Jacob Sr. and Mary (Patek) Velek.
Visitation 9 to 11 a.m, Friday, March 15, 2019, at Sts. Cyril and Methodius Catholic Church with Memorial Mass at 11 a.m. with Rev. Bryan Heyer officiating. Burial at Shiner Catholic Cemetery.
In lieu of flowers, memorials may be made to Shiner Nursing and Rehab Activity Dept. for all their special care for the last 4 years.