~Nelda Villareal~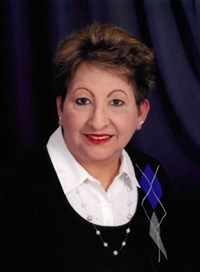 YOAKUM: Nelda Gomez Villareal, age 70, passed away Friday, December 31, 2021.
She was born December 7, 1951 in Yoakum to Edwardo and Esperanza Luna Gomez. She was a leather worker. She enjoyed working in the yard, dancing and listening to music.
Survivors: husband, Arthur Villareal Sr; sons, Chris (Sara) Villareal and Arthur Villareal Jr; grandson, Eric Villareal; sisters, Yolanda Longoria, Noela Herrera, Velma Gomez and Elda Dominguez; brothers, Adam (Diane) Gomez , Alex Gomez, Israel Gomez, Rumaldo Gomez and Armiro Gomez.
Preceded in death by: parents; brothers, Ramiro Gomez, Alvaro Gomez and Abram Gomez.
Celebration of Life 11 a.m. Wednesday, January 5, 2022 at Thiele-Cooper Funeral Home with Deacon Dennis Kutach officiating. 
Memorial contributions may be given St. Joseph Catholic Church.
Arrangements by Thiele-Cooper Funeral Home 361-293-5656.