~Bertie Wagner~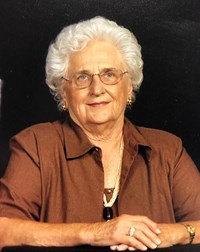 SHINER: Bertie Marie Bujnoch Wagner passed away peacefully at home on April 29, 2021, at the age of 91. Bertie was born in Worthing, Texas, on September 20, 1929, to Peter and Albina (Kocian) Bujnoch.
She graduated from St. Ludmila Academy in Shiner and went on to earn a B.S. degree in Foods and Nutrition from Our Lady of the Lake University in San Antonio. After graduation, she completed a dietetic internship at St. Mary's Hospital in Rochester, Minnesota. In 1952, she joined the dietary staff at John Sealy Hospital in Galveston, where she worked for six years. She later served as a consultant dietitian at the Shiner Hospital for many years.
Bertie was a devoted spouse and mother who was known for her love of cooking for family and friends. She was a member of Sts. Cyril and Methodius Catholic Church and was active in a number of church and professional organizations and activities.
Bertie is survived by her seven children: daughters Joan Wagner of Nosara, Costa Rica, Barbara Phillips (Kenny) of Grapevine, and Leah Janecek (David) of Shiner; and sons Dr. Ralph Wagner (Leah) of Shiner, Dr. Tim Wagner (Dr. Donna) of Shiner, Dr. Tom Wagner (Jeanne) of College Station, and Ted Wagner (Cindy) of Azle. She is also survived by 19 grandchildren. and sister, Catherine Valis of Shiner. 
Preceding Bertie in death were her husband of 62 years, Dr. John Dennis Wagner; a granddaughter, Rachel Janecek; and son-in-law, Steve Glover.
Visitation 5 p.m., Sunday, May 2, 2021 with  Rosary recited at 6 pm at Sts. Cyril and Methodius Catholic Church in Shiner. 
Funeral Mass of Christian Burial 10 a.m., Monday, May 3, 2021, at Sts. Cyril and Methodius Catholic Church with Rev. Bryan Heyer officiating.  Burial will follow at the Shiner Catholic Cemetery.
In lieu of flowers, memorials may be made to Sts. Cyril and Methodius Catholic Church or the Shiner Catholic Schools.
Arrangements are by Thiele-Cooper Funeral Home in Yoakum, 361-293-5656.